With the change of collection, Monnari unveiled a new design of an online store.
Monnari is one of the most well-known Polish clothing brands. The company is listed on the Stock Exchange in Warsaw. Currently Monnari's chain of stationary  stores has 146 showrooms located throughout the country. Monnari online store has been operating for over 5 years. At first, the store functioned on Magneto, then on PrestaShop. For over two years it has been operating and developing on i-systems software.
Mobile potential
The work on new version of Monnari store mainly covered mobile side of sales.  New layout of the home page, as well as all subpages, has been designed. All the development and implementation works has been executed according to mobile first rule, to make it easy for target customers to search and buy products on mobile devices.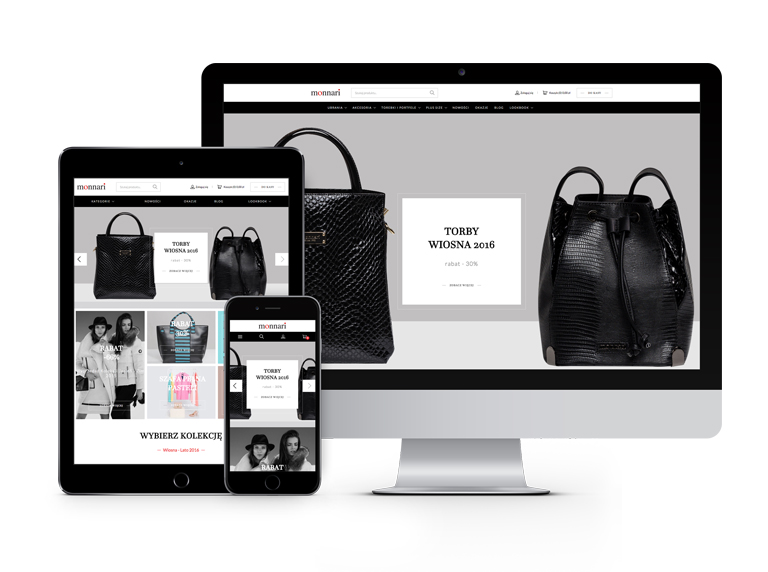 New lookbook
New Monnari store has also a refreshed lookbook. It means that product page consists of photos of high quality, with the models presenting new collections. Each product presented on the photo has its equivalent in online store. This solution can have an impact on many shopping decisions. What is more, new lookbook is more clear and creates an interactive product gallery. Among all the functionalities there are for instance: a possibility to create lookbooks' categories, a possibility to assign multiple lookbooks to one category, a possibility to add multiple photos to one lookbook, a possibility to determine the date of publication of the lookbook, and the possibility to enter photographer's data to the lookbook.
From online to offline
Currently Monnari's chain of stationary stores has 146 showrooms located throughout Poland. Each of them is located in convenient and frequently visited place. Online customers have also a possibility to order directly to the stationary store. During the process of placing an order, customer can choose where it can be delivered.
Brand-new Monnari online store means also less visible changes for users. Works covered among others: an improvement of the way products are put up on auction site (an option of automatic price change), ERP integrator update, and last but not least, dedicated cloud servers optimization.
The new online store can be found here: http://emonnari.pl