One of the oldest Polish brands, established in 1790, has launched a new online store. All of the works has been performed by i-systems.
Everything started in Ćmielów, Poland in 1790, when a local potter, Wojtas, started a workshop of clay pots and faience. In 1838 production of porcelain begin. Polskie Fabryki Porcelany combines three brands of different nature: elegant and luxury Ćmielów, classic and functional Chodzież, as well as modern and bold Ćmielów Design Studio. Moreover, Polskie Fabryki Porcelany is a member of the Wistil capital group.
– Ćmielów is one of the 10 oldest brands in Poland. The fact that such brands can see the potential in eCommerce and are willing to take a full advantage of it, by investing in new B2B and B2C solutions, is very significant. – claims Marcin Rutkowski, PR & Marketing Manager at i-systems.
– We wanted to combine our rich tradition with the best solutions on IT market. As a result we are now in possession of the system that enables us to take advantage of the fact that we are a well-recognized brand and thus – reach the client's attention even more effectively. – says Sebastian Kozłowski, Production & Development Manager at Polskie Fabryki Porcelany "Ćmielów" i "Chodzież" S.A.
Where tradition meets modernity
Historical collections made by Polskie Fabryki Porcelany "Ćmielów" i "Chodzież" S.A. from generations can be found among others in the Chancellery of the President of the Republic of Poland, the Chancellery of the Prime Minister of the Republic of Poland, in Vatican, and what is more, in many diplomatic institutions.
The main intention was to create an online store that would represent brand's values and meet the demands of the mobile users. All the design and development works were conducted according to responsive web design solution, which enables the new online store to adjust excellently to every mobile device.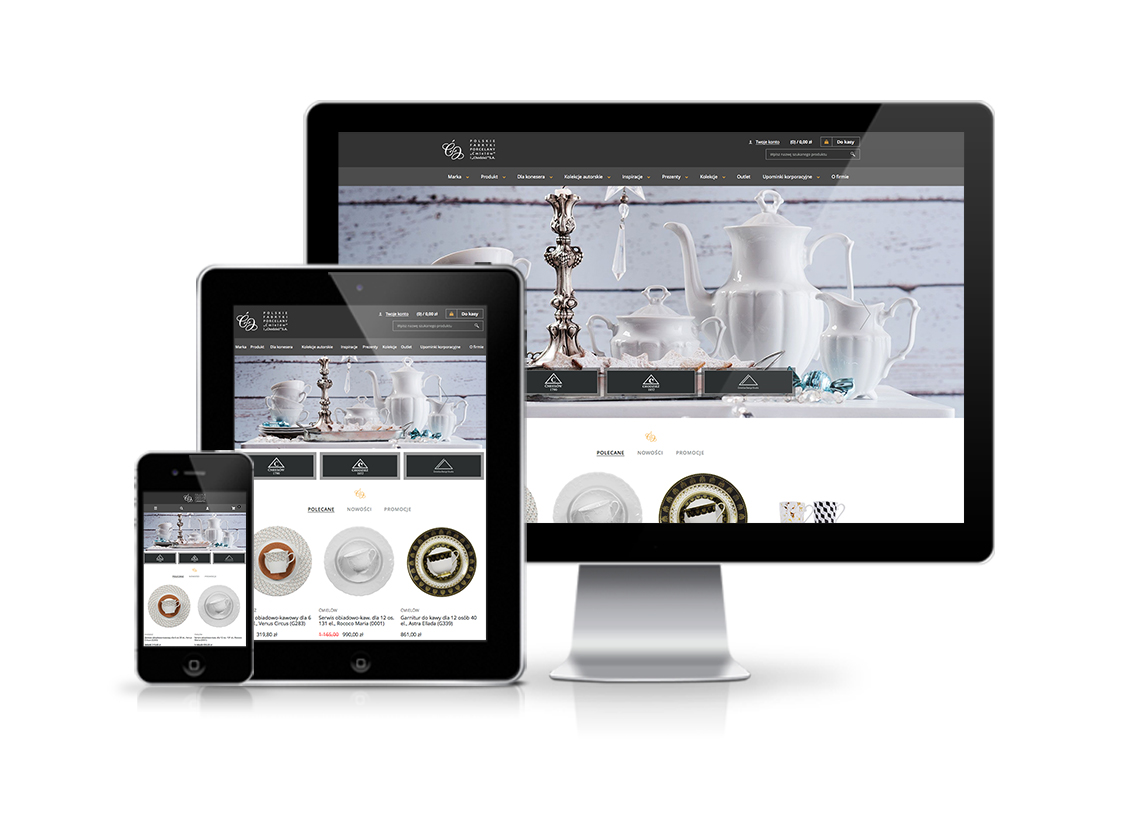 Pro sales and pro logistic solutions
eCommerce system, prepared especially for Polskie Fabryki Porcelany "Ćmielów" i "Chodzież" S.A. has a number of pro sales solutions, for instance: intelligent groups and extended coupons, a possibility to add reviews, extended filters, advanced cart history, and fully automatic, two-way integration with Allegro.
Another advantage of the new eCommerce system is supporting the brand in logistics. With dedicated warehouse modules it is easier for the system's administrator to manage product flow in both internal and external warehouses, prioritize, and verify states systematically.
The new online shop can be found here: http://sklep.porcelana.com.pl